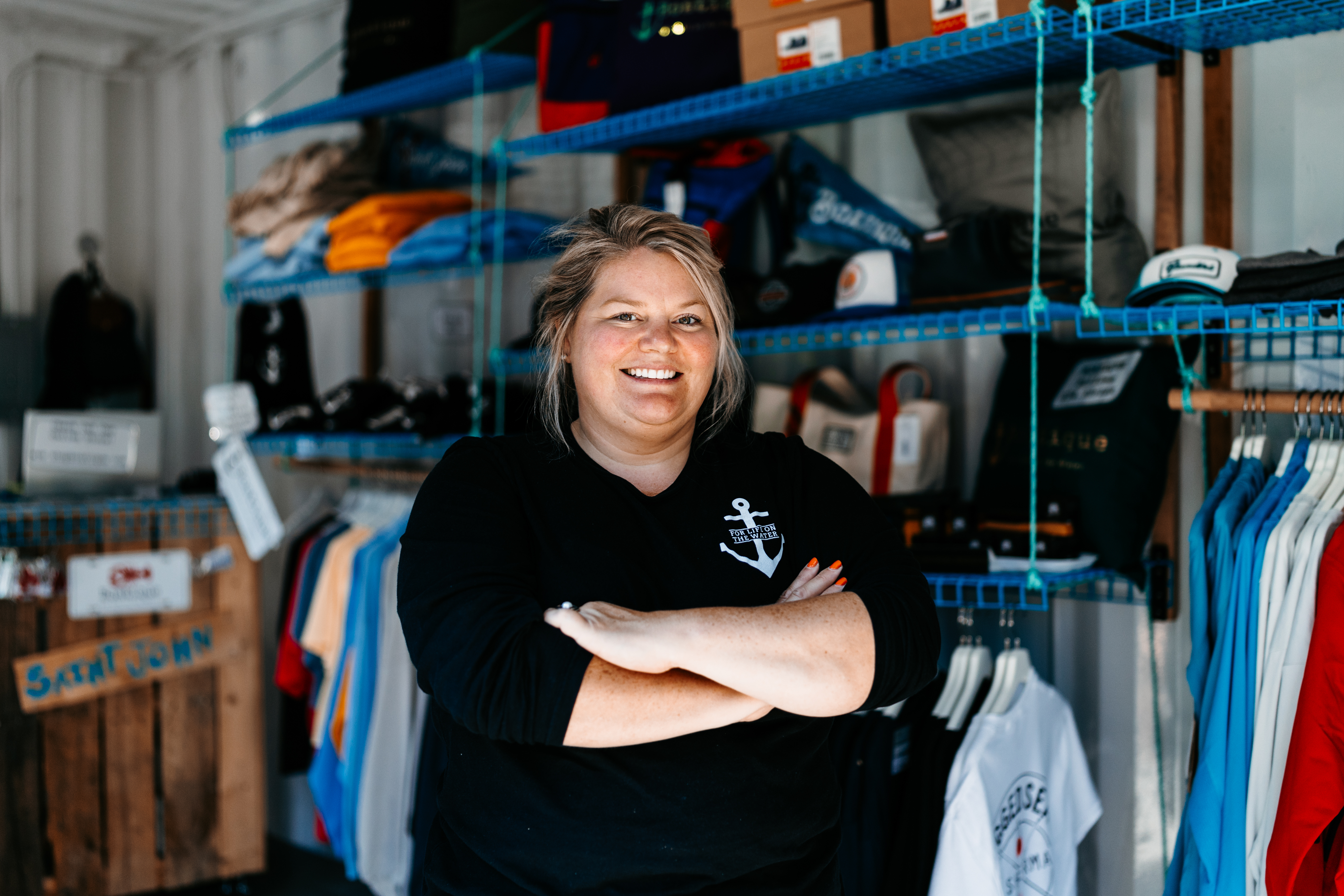 About a year ago, the AREA 506 Container Village was still not much more than an idea and a set of drawings, and our team set out to meet with artisans, craftspeople, and entrepreneurs who shared in this vision of transforming the waterfront.
With just over half of the first season behind them, we reached out to the entrepreneurs and staff in the Container Village – affectionately known as our ​'Village People' — to find out a little bit more about who they are, what makes them tick, and what they love about their businesses and being part of this challenging and exciting first year in the Container Village. Our first featured business is Boatique.
Located in Retail Row, BOATIQUE is the creation of sisters Sheena (pictured) and Tabatha Young. The Container Village shop is their second location – the flagship store on Deer Island is open seven days a week, year-round – and features a collection of clothing, home décor items and gifts for anyone with an appreciation for being by the water.
Q: Where did you get the idea for your business?
As daughters of a traditional fisherman, it meant countless hours of our childhood were spent in marine supply shops throughout the Maritimes and New England. We cherish these memories but wanted to make the experience even sweeter for fishing families like ours, so we created the BOATIQUE. Commercial fisherman, coastline dwellers and lovers of the water whether ocean, lake or river are sure to relish our highly curated selection of coastal apparel, home décor and novelty items ​'for life on the water'.
Q: How did you come up with the name of your business?
Sheena: I am a daydreamer; I think I came up with BOATIQUE while sitting in class during university and just kept it in my memory bank.
Q: Knowing what you know now, anything you would have done differently when you were starting out?
We would have become business partners sooner.
Q: What do you consider your biggest success?
As women founders, building a business in our home(port) of Deer Island & making life better for our neighbours is the success we cherish most!
Q: What's next?
We have several projects on the horizon! All with a vision of making life better in Atlantic Canada.